Bogotá (Colombia) 10/09/2019
COMMUNIQUE OF SOLIDARITY WITH THE ECUADORIAN PEOPLE
The pressures made by the International Monetary Fund have led to the reduction of wages by up to 20% and the elimination of taxes on the importation of agricultural machinery and raw materials. The increases in the price of fuel impacted the public transport sector who led the demonstrations on October, 3d. On October, 4th, students and workers joined the movement, so the demonstrations in the city of Quito took on an insurgent nature.
The indigenous communities decided to join the movement and reach the city of Quito, joining forces with the workers and students, since the transport union ceased its struggle once the transport rates increases had been agreed by false representatives of that union.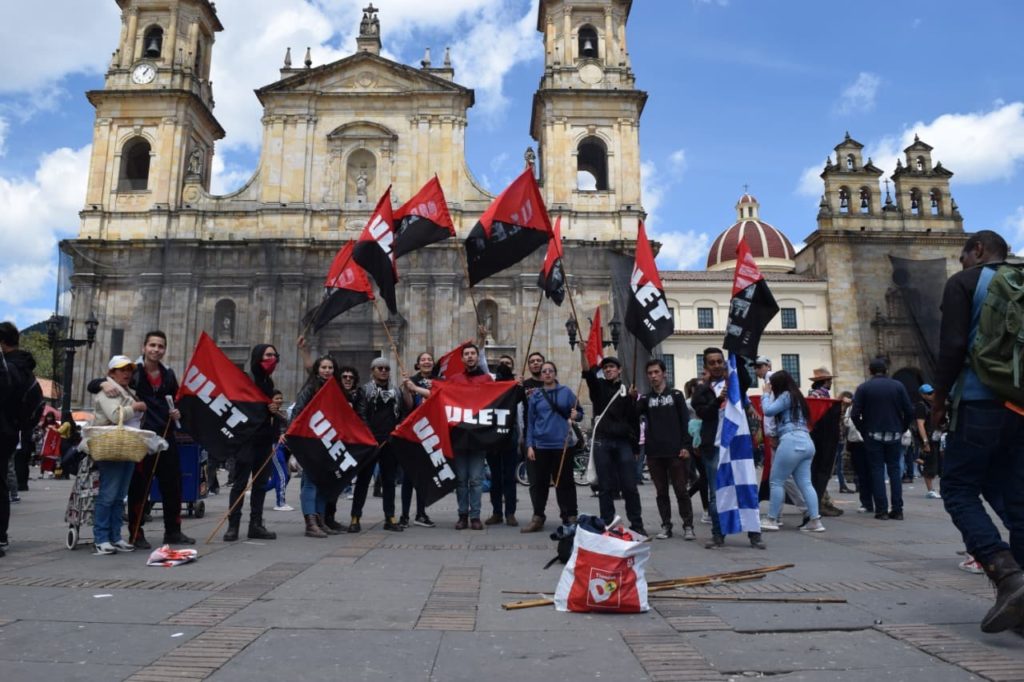 These are the first manifestations after 15 years of calm. This calm in the force of the people originated with the government of Rafael Correa who neutralized the popular demonstration using the inhuman state apparatus of capital and neoliberal measures.
Today, the popular uprising has led the government of Lenin Moreno to flee to Guayaquil, the second economic center of Ecuador. On the other hand the demonstrators showed their capacity to fight, taking for a short period of time the building of the National Assembly of Ecuador. The state has wanted to oppress demonstrations through arbitrary detentions, the use of excessive force in violation of international treaties and the blockade of human rights organizations and the Red Cross.
For this reason we turn to the international proletariat, we believe that the grouping under the banners of solidarity between peoples, without borders, is a weapon of high power that we have in our favor. Our call is to unity, the Latino people – and in this specific case, the Ecuadorian people – can no longer carry alone the consequences of this neoliberal fascist policy that aims to give our economy more and more to the oligarchy despots and the IMF, responsible for the misery that afflicts so much to the workers.
The social struggle that is developing in Ecuador does not obey to any political party. This struggle is born of solidarity between peoples who recognize themselves as brothers, fueling the libertarian fire that knows no barriers which cloud the horizon.
This communiqué is signed by anarchist and libertarian organizations that do not claim to be the voice of the Ecuadorian people, but they do feel the struggle as if it were their own.
U.L.E.T – AIT (10/12/2019).
CNT-AIT (France)
http://uletsindical.org/imagenes/comunicadoecuador.pdf
Press realase in Spanish : http://cnt-ait.info/2019/10/16/ulet-ecuador-es/
Press realase in French : http://cnt-ait.info/2019/10/16/ulet-ecuador-fr/