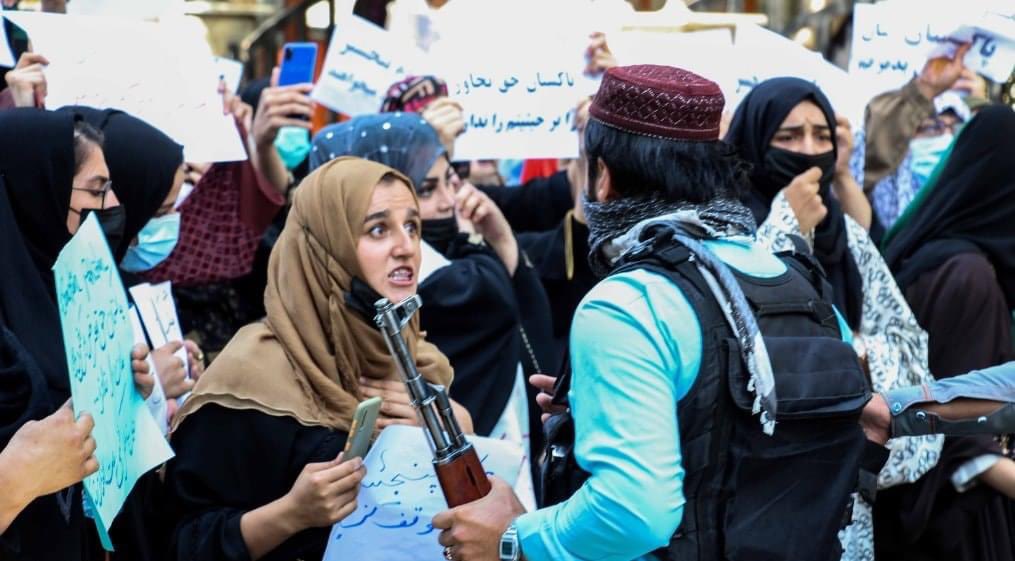 The Workers Solidarity Federation, friends of IWA in Pakistan will participate to the Aurat March (Urdu: عورت مارچ or عورت احتجاج, English: « Women's March ») in Karachi the 12th of March :
« Don't forget the brave afghan, Iranian and Pakistani women for their struggle against fascist regimes and patriarchy on International Working Women's Day. Let's hope for a better world where we all feel safe and loved.
On the 12th of March, Workers Solidarity Federation, , will join Aurat March in Karachi @AuratMarchKHI with banners to support the struggle of afghan, Iranian and Pakistani women and forced conversion of minor girls along with transgender people rights! Do join us for a better world !«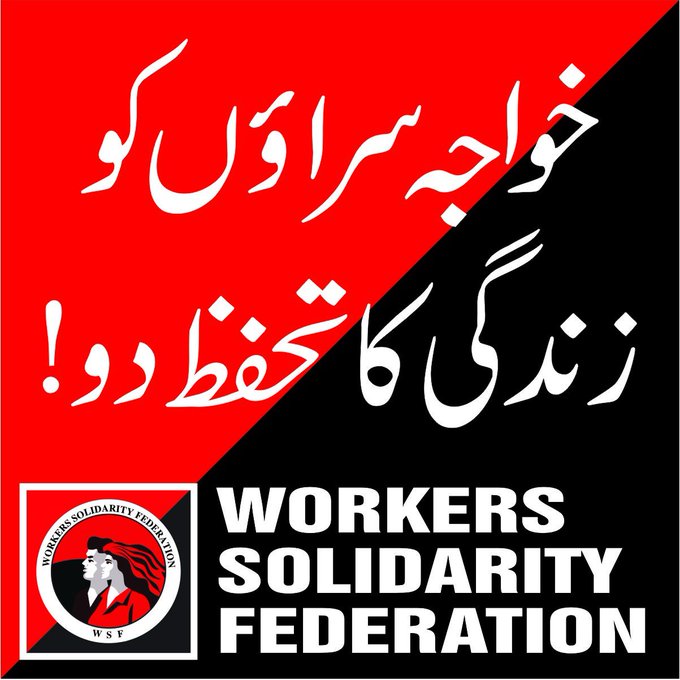 The Aurat March is an annual socio-political demonstration organized since 2018 in Pakistani cities such as Islamabad, Karachi, Lahore, Peshawar and Quetta to observe International Women's Right Day.
The march manifesto demands economic justice, including implementation of labor rights and the Protection Against Harassment of Women at the Workplace Act, 2010, recognition of women's unpaid contributions to the « care economy », and provision of maternity leave and daycare centers to ensure women's inclusion in the labor force. It also demands access to safe air and drinking water, protection of animals and wildlife, recognition of women's participation in the production of food and cash crops, access to a fair judicial system, the inclusion of women with disabilities and the transgender community, reproductive justice, access to public spaces, inclusion in educational institutions, etc …
Women and men carry posters with slogans such as Ghar ka Kaam, Sab ka Kaam (« Housework is everyone's work »), and Mera Jism Meri Marzi (« My body, my choice ») became a rallying cry.[
Mera Jism Meri Marzi (میرا جسم میری مرضی; lit. 'My body, my choice)
Mera Jism Meri Marzi (Urdu: میرا جسم میری مرضی; lit. 'My body, my choice') is a slogan used by feminists in Pakistan to demand bodily autonomy and protest gender-based violence.
Other popular slogans are :
Nazar teri gandi aur purdah mein keroun (« Why do I adopt the veil because of your bad habit of ogling? »)
Agar dupatta itna pasand hai tou apni aankhon pe bandh lo (« If you like the scarf so much, then tie it around your eyes »)
Tu kare tou Stud, Mai Karun tou Slut (« If you do it, you're a stud, but if I do it, I'm a slut »)
Khana khud garam karo (« Ready the food yourself »)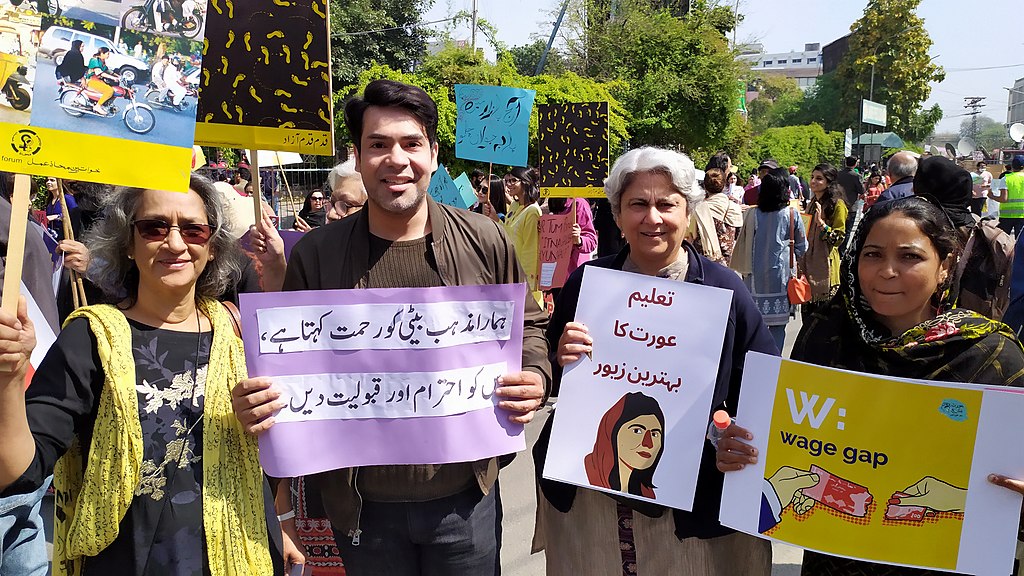 Conservatives, right wing and islamists objects to those slogans which they think to be contrary to their Islamic ideology and allegedly promote vulgarity as well as western culture and agenda. Opponents of the Aurat March accused its organizers on social media of flying a French flag,while the flag of the Women Democratic Front is red, white, and purple… The most radical opponents added threats to stop Aurat March by force if it includes slogans not acceptable to them.
In 2021, according to Pakistan's minister for religious affairs and interfaith harmony, Noorul Haq Qadri, Islamic societies are the best in protecting women's rights, Qadri says Aurat March banners, placards and slogans do not match with the Pakistan's social, political and religious standard imbibed in the collective thought of the Pakistani people, and that individual or civil society participating in Aurat March ought not to get leeway to undermine the religious injunctions and instead Aurat March be celebrated as Hijab day to focus discrimination by Hindu extremists against Muslim minorities in India. each years marches are organized amidst intimidation and attacks.
======
ورکرز سولڈرٹی فیڈریشن پاکستان کے ساتھیوں نے آج عورت مارچ کراچی میں شرکت کی. ہم انارکسٹ ریاست کی موجودگی کو پدر سری نظام کی بنیاد سمجھتے ہے. ہم انسانوں پر کسی بھی کسی کی اجارہ داری کے خلاف ہے اور اس کے خلاف آواز بلند کرنا اپنا فرض سمجھتے ہے۔
Colleagues of Workers' Solidarity Federation Pakistan participated in Awart March Karachi today. We anarchists consider the existence of a State to be the basis of paternalism. We humans are against the monopoly of anyone and we consider it our duty to raise our voice against it.