November 30, 2020, ASI-AIT, https://www.facebook.com/borbenisindikat/posts/3780264315327892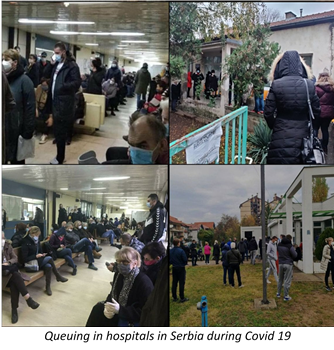 Due to the new peak of the corona virus that has hit Serbia as well, the situation is more than alarming. Hospitals are full and available beds for newly infected people, who arrive by thousands every day, are almost non-existent, as well as rested medical staff. Thanks to looting privatizations and years of systematic destruction of the public sector, our healthcare system is so devastated that it is unable to adequately cope with the crisis caused by the pandemic.
This, along with the general global uncertainty, leads to a justified growth of distrust of the population in the entire system, both in our country and in the world, but unfortunately also disbelief in the existence of the virus itself, which is very real and very dangerous for many of us.
Therefore, we consider it is sensible to repeat the demands that our organization, the Anarcho-Syndicalist Initiative, as well as the entire International Association of Workers, expressed at the beginning of the pandemic:
– all non-essential companies should be closed immediately, since jobs have undoubtedly proven to be a key source of infection. It is necessary to provide all employees with compensation in the amount of one hundred percent of salary during the period of job closure. It is necessary to close all educational institutions to the crisis end and enable everyone to teach and learn at distance.
–        To all workers in essential jobs – doctors, nurses, drivers, salesmen, etc. it is necessary to immediately raise salaries by one hundred percent due to working in life-threatening conditions. Also, all executive measures against the weakest, as evictions and the like, must be stopped immediately. We demand from the authorities the immediate introduction of these measures! Enough playing with our lives for your profit!