September 06, 2020, ASN, https://asnkoeln.blackblogs.org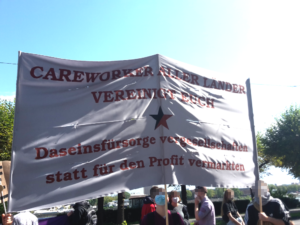 The "Cologne Alliance for More Personnel in Health Service" (Kölner Bündnis für mehr Personal im Gesundheitswesen, http://gesundheitsbuendnisse-nrw.de/buendnisse/koeln/) organized a protest demonstration with hundreds of participants on Saturday September 5, 2020.
Following an assembly nearby the Cathedral, the demonstration crossed St. Cunibert district headed for the "German Economic Institute". Speeches were also given in front of the nearby residential care and nursing home St. Vincenz-Haus, against the dramatic working and living conditions (not just since the corona pandemic) in the market-driven and patriarchal healthcare system.
Many Practical and Geriatric Nurses (of different genders), as well as other occupational groups, but also solidarity-based health initiatives and concerned patients, took part in the protest which ended in a park nearby Theodor-Heuss-Ring. The motto of the demonstration was: "Take the applause to the streets! Care rebellion now!" [https://gesundheitsbuendnisse-nrw.de/aktuelles/pflegeaufstand-jetzt/]. While only the first part of that has been carried out, maybe this event could be the beginning of further, urgently needed protests in an industry, which is vitally important for society.
High-sounding election promises or shabby pay-offs can neither appease the angry colleagues, nor can the precarious conditions of inpatient, outpatient or private care be improved by this.
As the call for demonstration stated:
"The coronavirus has the world and our daily life under control. This danger to life is systematic! The virus spreads wider and more people get sick, because they have to work, produce and live under dangerous conditions in retirement homes (e.g. in a private geriatric residence in Cologne-Rodenkirchen, see our report [https://anarchosyndikalismus.blackblogs.org/2020/05/01/koeln-protestaktionen-am-ersten-mai/]), in refugees shelters (e.g.as in a migrants accommodation in Cologne-Porz), in factories (such as the meat packer Tönnies) or in cramped tenement houses."
Everyday life is the problem! Covid-19 intensifies it!
A lot has been said about the global coronavirus epidemic: about the healthcare system and how important not only the medical staff is, but the nurses as well. There was applause for them and politicians from all parties praised them in talk shows. However, words alone do not help against blatant staff shortage, lack of protective equipment, privatization of nursing and care for sick and elderly persons, and shallow words do not rise low wages. Be it nursing assistants in inpatient care, geriatric nurses in outpatient care, hospital cleaners or nurses on shift work – not one of them received a single penny from the applause. Let alone that none of the overtime exhausted colleagues have been relieved from permanent filling in or from stressful nursing management and company bosses (…).
In health care, there is cost pressure, stagnation in investments or restructuring, inadequate equipment, horrific staff shortages, poor pay, unbelievable stress and time pressure for nurses, resulting in ethically questionable treatment of patients! We want to change this and we have to! Everyone is talking about a return to normality, but we cannot just go back to a previously bad situation. We have to make a change! Public health needs to be planned wisely and reasonable, right now. And it shall not be based on mere economic profitability. Health care needs supply facilities close to homes, based on people's needs, with sufficient staffing and good working conditions, time for patients and relaxation. These tasks belong to the public sector and are to be socialized in the long run!"
However, there is no need to rely on State governance, as the state has been pushing for privatization of health facilities for decades, thereby denying full medical service for migrants without residence permit. There is an urgent need for a fundamental change in solidarity. Not only in health industry, but also in a wide field of care work (still predominantly female) concerning households, families, friends and neighbourhoods. And we need self-organized workplaces where social tasks are created collectively – beyond the capitalist logic of profit, overcoming heteronomy and exploitation.
Anarcho-Syndicalist Network Cologne (ASN Köln)