There are people who are dreaming of monsters:
Who financed the indigenous movement?

During the 11 days of the National Strike, an imaginary of a strike financed by correismo (from Correa, the former President of Republic of Ecuador, who is currently hidden in Beligium in order to escpe the trial for corruption …) was built, and then after they said it was Maduro pulling the strings. … it seemed that the media had a clear script, in order to keep Lenin Moreno as President and build the necessary elements to convince the people that an attempted coup d'etat was going on..

But what is the reply to the question "who financed the indigenous movement for eleven days ?"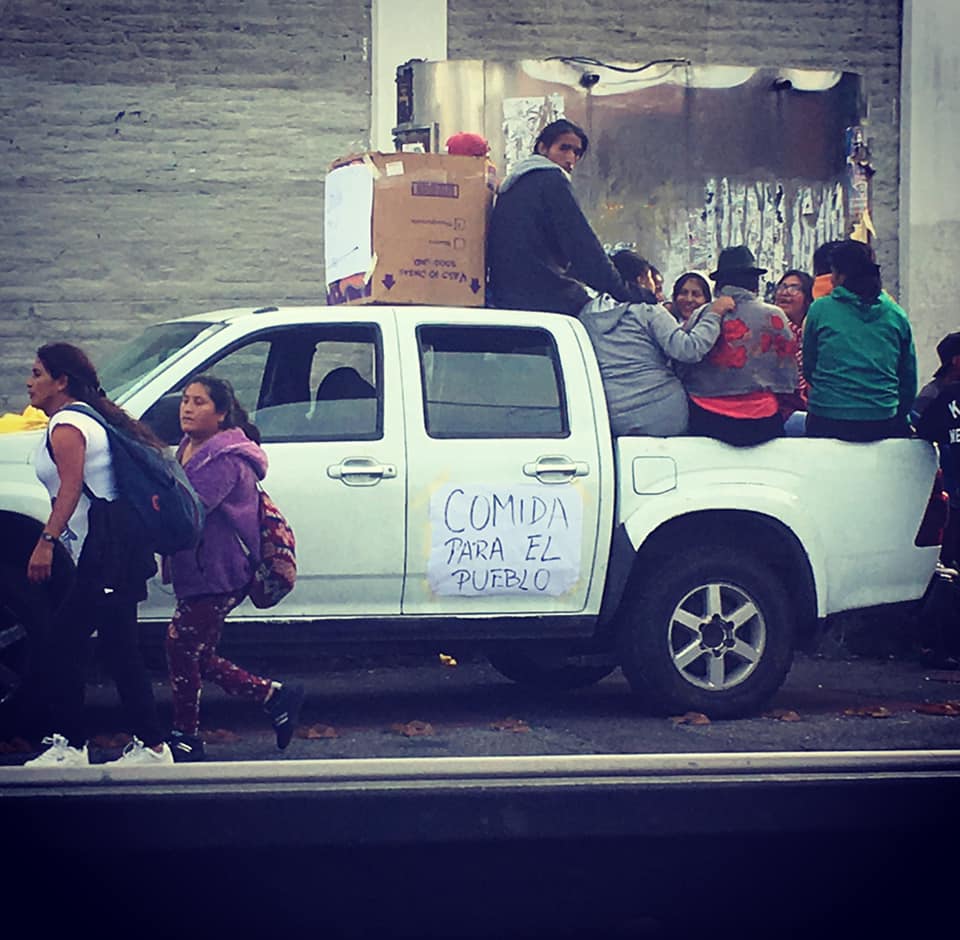 It is she. Yes, she : Doña Carmita, the seamstress of the ascent to La Gasca, she financed the indigenous movement. Without networks, without formal political preparation, she gathered the family to prepare sandwiches, because she knows that her brothers in Cotopaxi are at the occupation headquarters and they should be hungry. They must also be cold, that's why she brought the warmest blanket she gets/ And also the son's strong shoes, those with a sturdy floor so they can walk. And a little cut-off cloth to put bicarbonate water on it so that the tear gas can not hurt them.
Other had financed too : the families of Guayllabamba that gathered the communities to gather the best avocados, because the food is richer if you put avocado on the locro (andes's corn stew), but also quintals of pickles for a salad, and of onion for the soup of fideo, and also water agüita. So they are not thirsty.
And the students of Tena who picked up medicines, because there is a lack of paracetamol and band-aid … then they came with a pick-up truck with bandages, cotton, tape.
The neighborhood of Toctiuco, La Comuna, Las Casas also had financed the movement. From there, families went down to cook, so they never lack rice and hot caldito, they came with their cutting board and the sharpest knife to prepare the best mince-meat.
That is the monster that Moreno dreams of, a town that rose to sustain the National General Strike. That monster is the neighbor who took the broom to sweep, that monster is the hairdresser, the mason, the seamstress, the baker's association that did not stop making bread, hundreds of boxes of breads of all kinds, injertos (graft bread), mestizos (mixed bread), manitas (small hands bread), empanadas …
That monster is awake Mr. Moreno and is in your nightmare. "
By: Milena Almeida
Original text in spanish : http://cnt-ait.info/2019/10/16/finance-es
Translation in French : http://cnt-ait.info/2019/10/16/finance-fr