A wave of repression of unheard-of violence fell on our anarchosyndicalist and anarchist companions in Indonesia.

In Bandung alone, the police arrested 619 people, who were penned, undressed, head-shaved, piled up and taken away in pick-up , shorn and marked with red pa
int. (see for more info and photos: CLIQUER)
The anarchist movement has been growing steadily in recent years in Indonesia, attracting more and more young people who reject traditional parties or unions, as well as ancestral and religious customs and traditions.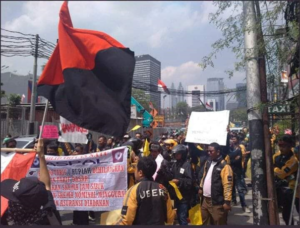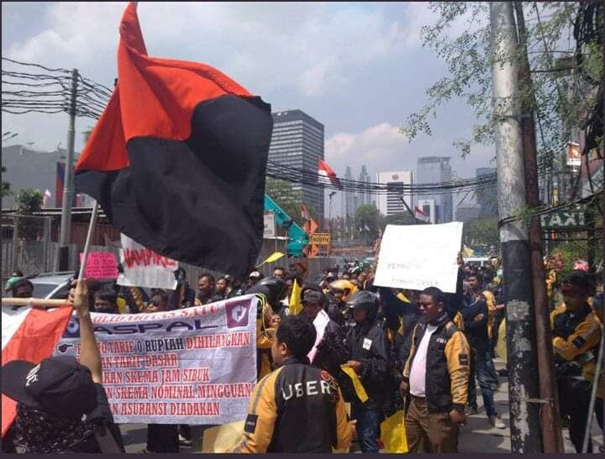 Last year, our companions from PPAS staged a UBER driver strike, which strongly angered KSPSI, Indonesia's largest union. Regularly KSPSI attacks the gatherings of our companions.

On the pretext of minor incidents on May 1 in various cities (and largely provoked by the police and its savage repression), the union and the police found the pretext they were searching for to get rid of our companions, by designating them as the organizers of a vast plot hatched from abroad, some newspapers incriminating even the IWA (international anarchosyndicalist organization). An « anarchosyndicalist witch-hunt » has been launched by the Indonesian Police Chief, relayed by leading local newspapers.

Today several people have been arrested including one of our companions. They risk heavy penalties.

Our companions need our solidarity, especially financial.

Those who wish to contribute can :
– spread this information as much as possible,
– for those in the Euro Zone, they can make a bank transfer to support PPAS (in Euro Zone, bank transfer are free while internet plateform you have to pay 2,9% + 0,3° $ on each transaction). If you want to proceed tgis way, please contact us by email: contact@cnt-ait.info
– for those not in Euro Zone or that prefer to use electronic plateform, you can either use the plateform in Euro we launched (https://www.gofundme.com/solidarite-indonesie-solidarity-indonesia) or the one in Dollar launched by our Australian friends.
Thanks for our fellow mates !

CNT-AIT Paris
FB : @chats.noirs.turbulents